Cerberus`Gedankenhöhle


https://myblog.de/bigbadcerberus

Gratis bloggen bei
myblog.de


--]Charaktertests sagen:[--


Take the quiz: "Are you a good girl/boyfriend?"



kinda shy show them you care
TALK! HOLD HANDS! KISS!

Take the quiz: "What Angel Are You?"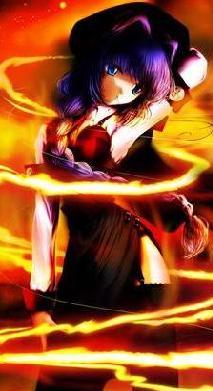 Fire Angel
Hee Hee hello friend, you share domain, for i'm a Fire angel as well, but anyways ...You are a fire angel.it take only a little effort on somone's part, or a well placed comment to stoak our anger up.Not many animals like to get really close to fire, but Salamanders and Dragons love us to pieces.We like warm, and hot colours, like Reds and Oranges, pinks somtimes.We can also be enormous flirts, although I deny outright that I flirt at all.Fire tends to be more mature and other angels, since we know the dangers overplayfulness can cause.but if we are around the correct Sister, we can be talked and prodded into outragious funtimes :D

Take the quiz: "Will you ever kill anyone?"



Probably
Yes but only in a drunken rage [Muhaaaa]



According to the Alien Abduction Test There is a 36% chance that I've been abducted by Aliens! [Ich wusste es!]

Take the quiz: "Serial Killer Quiz"


The Night Stalker
You stalk people and kill them without getting caught but everyone makes a mistake, eventually. [An die Leute, die mich von Shootern kennen: Tu ich das???]

Take the quiz: "What does your birth month reveal about you?"

January
Stubborn and hard-hearted. Ambitious and serious. Loves to teach and be taught. Always looking at people's flaws and weaknesses. Likes to criticize. Hardworking and productive. Smart, neat and organized. Sensitive and has deep thoughts. Knows how to make others happy. Quiet unless excited or tensed. Rather reserved. Highly attentive. Resistant to illnesses but prone to colds. Romantic but has difficulties expressing love. Loves children. Loyal. Has great social abilities yet easily jealous. Very Stubborn and money cautious. [SEHR ZUSTIMM!!! *verdächtig*]

Take the quiz: "What kind of eyes do you have? (with pictures)"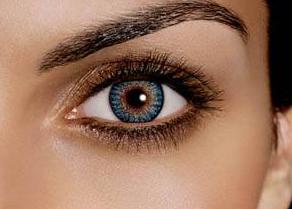 Turquoise
You have turquoise eyes. Turquoise is the color of communication. Your eyes symbolize your intuitive nature. You can be over-analytical sometimes, possibly fussy and egocentric. You have the tendency to push your heart out of the way and let logic make your decisions. You are not shy, but you can be secretive, closed, confused about what you want, and maybe a bit sneaky and paranoid at times. Some words to describe you: cool, refreshing, imaginative, motivated, dynamitic, calm, peaceful, joyful, relaxed, truthful, healing, meditation, tranquility, forgiving, patient, sleepy, and day-dreamer.

Take the quiz: "What should your nick name be?"

dylan
your smart but u surround yourself with people that dont share your IQ but you luv them anyway [Andromeda ich komme!!!]

Take the quiz: "WHAT RELIGION BESTS SUITS YOU?"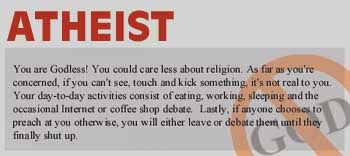 Atheist
You are Godless! You could care less about religion. As far as you're concerned, if you can't see, touch and kick something, it's not real to you. You're day-to-day activities consist of eating, working, sleeping and the occasional Internet or coffee shop debate. Lastly, if anyone chooses to preach at you otherwise, you will either leave or debate them until they finally shut up. [War klar]

Take the quiz: "what color rose does you soul have*PICS*"


The purple rose
you are the purple rose your somtimes confused about life and dont know if there is a god or not you feel alone and dont know if there will ever be happiness for you but try to be strong you figure things out some day.

Take the quiz: "RANDOM QUESTION PERSONALITY QUIZ! VEEEERRRRY TRUE RESULTS!!!!!!!!!!!!!!!!!!!!!!!!!!!!!!!!!!!!!!!!!!!"

INDEPENDENT
YOU ARE VERY INDEPENDENT, AND YOU LIKE TO DO THINGS BY YOURSELF. THIS ISN'T A BAD THING, BUT TRY AND INCLUDE OTHERS IN YOUR LIFE. GET A FEW FRIENDS! IF YOU ARE GOING TO BE AS SUCCESSFUL AS YOU WANT TO BE, YOU HAVE TO HAVE SOMEONE TO STAND BY YOU. HTNE THINGS WILL BE GREAT, AND YOU'LL BE READY TO RULE THE WORLD (OR WHATEVER...)! THANKS FOR TAKING THE QUIZ!

Take the quiz: "How romantic are you?"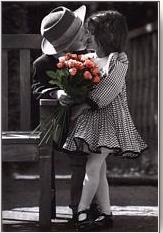 Sentimental sweet heart!
You are the type who just makes there heart melt.. GOOD JOB! You are as romantic as it gets!! Every moment with you makes ur g/f or b/f feel special.



Da stellt sich die Frage auf: Was denken eigentlich meine Mitschüler über mich?

Bei den "Orientierungstagen" in der 10. Klasse sollten wir nachher Zettel über die anderen an sie schreiben. Hier sind dann mal alle aufgelistet:

"Du bist hilfstbereit (holst immer Essen)."
"Bist ganz in Ordnung, man kann wohl mit dir reden."
"-deine Computerkenntnisse"[Hä, an den OTs hatten wir gar keine PCs.....]
"Du hast soviele Möglichkeiten was aus dir zu machen! Du bist intelligent und lässt dich nicht von anderen beeinflussen! Du bist ein super Freund ....ok, auch wenn du ein paar Macken hast! *g* Hoffe du bleibst noch lange ein guter Freund für mich!"
"Ich finds gut, dass du dich immer engagiert hast, wenn z.B. das Trinken beim Essen leer war."
"Du bist ein netter Mensch." [Moo]
"Ich finds cool, dass du hier mal ein bisschen aus dir heraus gekommen bist."
"Ich finde es gut, dass du dich in den drei Tagen in die Klassengemeinschaft intrigiert hast." [Vorsicht: Rechtschreibfehler meets Wortwitz]
"Ich mag dein Allgemeinwissen und das du versuchst, zu allen nett zu sein."[*Nix versteh*]
"Ich find es gut, dass du hier in Vechta etwas aufgeschlossener geworden bist, dann lernt man dich erst richtig kennen."
"Das Billardspielen hat Spaß gemacht! Außerdem gefällt mir an dir, dass du deinen eigenen Kopf hast und nicht machst, was andere sagen bzw. machen."[Gut bemerkt]
"Ich finde gut an dir, dass du immer das sagst, was du denkst und dich nicht von Anderen beeinflussen lässt. Auch deine geschriebenen Werke sind nicht zu verachten!
"
"Gegen dich kann man gut gewinnen und verlieren"
"H., warst richtig gut drauf die Tage! Immer weiter so!"
"Ich finde dich hilfsbereit"
"Ich finds gut, dass du dich der Gruppe ein bisschen mehr angepasst hast und finde du bist schon viel offener geworden bist"[Ich hab mich nicht vertipped]
"Bist voll nett!"
"Waren doch 3 geile Tage, hat alle sau Spaß gemacht und wir hatten immer Spaß!"
"Ich finde gut, dass du mi inner Schule echt gut hilfst wenn du Lust hast."
"Schön, dass du dabei warst! Und dass du mit uns zusammen gesessen hast!"
"Jo H., wenn du nich ma schlechte Laune hast biste eigentlich sogar ganz gut drauf."


Die Reihenfolge ist übrigens ganz zufällig....... naja vllt doch nicht, aber auch egal, oder?
s